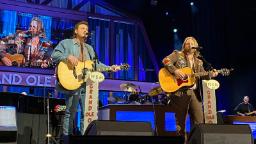 The singer, who was suspended by her label and dropped by several radio stations last year after a video of her racial slurs surfaced, is in the news for her new collaboration, "Flower Shops", with her Big Loud label partner Ernest. Appeared at the mythological site to perform.
It helped revitalize a tweet from country music's most respected platform, posted during the racial unrest following the death of George Floyd at the hands of Minneapolis police.
"Racism is real. It is unacceptable. And it has no place at The Grand Ole Opry," that tweet read.
Artist, songwriter and actor Jason Isbell tweeted about it.
"Last night @opry you had a choice – either harass a man and his 'team,' or break the hearts of aspiring Black Country artists," he wrote. "You chose the wrong one and I'm really sad for a lot of my friends today. Not surprised though. Just sad."
Grammy-nominated artist Alison Russell, who is biracial, tweeted, "Bigotry rot too bad in mainstream country."
"But take [heart emoji] As #bellhooks said, 'Sometimes people try to destroy you, precisely because they recognize your power—not because they don't see it, but because they see it and they don't want to. That it should exist," Russell wrote.
    ,