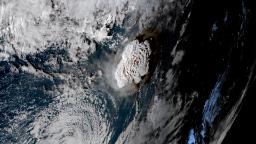 The Hunga-Tonga-Hunga-Hapai volcano erupted for the first time on Friday, hurling ash 20 kilometers (12.4 miles) into the air, according to CNN affiliate Radio New Zealand (RNZ).
RNZ reported that the second explosion occurred at 5:26 pm local time on Saturday.
Satellite images show massive ash clouds and shockwaves from the explosion. According to RNZ, waves of the blast crossed the shoreline of Nuku'alofa, the capital of Tonga, flooding coastal roads and flooding properties.
According to RNZ, the volcano is located about 30 kilometers (18.6 mi) southeast of Tonga's Fonuafou Island.
Tonga's meteorological services issued advisories for heavy rain, flash floods and strong winds in land and coastal waters.
Nearby, New Zealand's official weather service said its weather stations across the country had seen a "surge in pressure" from the eruption on Saturday evening.
The volcano had been active since 20 December, but was declared inactive on 11 January, according to the RNZ.
    ,