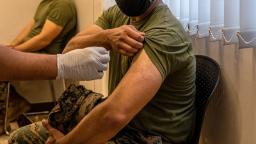 CNN
,
The US military has approved religious exemptions for its COVID-19 vaccine mandate for 15 service members out of nearly 16,000 requests, according to the latest figures from the services.
The Marine Corps has approved religious exemptions for six Marines and the Air Force has approved nine requests for exemptions. The Navy has given conditional approval for a member of the Individual Ready Reserve, but that member must be fully vaccinated before returning to service.
The Army's vaccine mandate, established soon after the US Food and Drug Administration gave full approval to the Pfizer/BioNTech COVID-19 vaccine, has faced legal challenges despite service members' high vaccination rates.
A federal judge in Georgia ruled this week that an unnamed Air Force officer who was denied a religious exemption is not required to receive the COVID-19 vaccine because of his religious beliefs.
Judge Tillman Self ruled that the mandate violates the officer's religious freedom. "What genuine interest could our military leaders have in pursuing a requirement that violates the document they vowed to support and defend?" Self wrote in his order.
While the ruling only applies to one official who filed the lawsuit, the order in his favor could encourage other challenges to the vaccine mandate.
In a separate, ongoing federal case in Texas, a judge ruled that the Navy could not take adverse action or punish a group of 35 Navy SEALs who claimed a religious exemption from the requirement.
Meanwhile, several Republican governors have challenged the mandate for the National Guard, asserting that they are commanders of state units, not the federal government. Defense Secretary Lloyd Austin shrugged off those objections, arguing that they do not negate what he has long considered a critical military medical preparedness requirement.
These cases remain the exception. The active duty military, made up of more than 1.3 million service members, is over 97% vaccinated, while the total force, including the Reserve and National Guard, is about 90% vaccinated.
According to the latest figures from the Marine Corps, Marines have requested a total of 3,595 religious exemptions. As of this week, 640 Marines have been taken out of service for refusing a valid order to receive the vaccine.
The Air Force has approved a total of nine waivers and rejected 3,381. Another 2,664 requests are still pending. The Air Force has separated 160 service members for refusing the vaccine.
According to data released by the service, the Navy has received 3,369 religious exemption requests, but none have been approved. A total of 247 active duty sailors and one reserve sailor have been isolated for vaccine refusal. There were another 22 entry-level isolations for those denied the vaccine within their first 180 days of active duty.
The army has received 3,088 religious exemption requests and zero of them have been approved. According to the latest data, the army recently implemented its isolation policy and has not yet discharged anyone for refusing the vaccine.
    ,