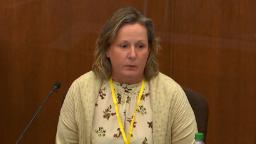 Kim Potter, a former Minnesota police officer who pulled a gun instead of a Taser and fatally shot Daunted Right during a traffic stop, was found guilty of first- and second-degree murder in the December 23, 2021 death of a black man .
Potter, who is White, showed no emotion as the verdicts were read and bail was ordered without bail. One of his lawyers rested his head on his hands on the defense table.
The jurors deliberated for nearly 27 hours until Monday, when, in closing arguments, a prosecutor described Potter's actions as a tragic blunder born out of recklessness or recklessness, and the defense called the shooting an honest mistake. As described, not a crime.
The maximum penalty for first-degree murder based on reckless use/handling of a firearm is 15 years in prison. Since Potter, 49, has no criminal history, Minnesota sentencing guidelines recommend a prison sentence of approximately six to eight and a half years.
The former Brooklyn Center police officer was handcuffed and escorted out of the courtroom. According to a pool report, her husband, Jeff, a former law enforcement officer, was heard shouting "I love you, Kim."
"I love you back," she said.
According to the state Department of Corrections, she was transferred to Shakopee — a Minnesota correctional facility about 25 miles southwest of Minneapolis.
    ,